A foundation makeup course is a perfect way to learn all the basics needed to master makeup artistry. Foundation makeup courses are designed for students to go from beginners to professional MUA's in a desired timeframe.
What are the benefits of a Foundation Makeup Course?
Learning from an experienced makeup artist.
Being certified will reassure future clients of your skills.
Access to a wide range of high end and professional makeup.
Knowledge on the basics that you will need every day as a makeup artist.
Access to models with different skin types and skin colours.
To find out more about the benefits of a makeup course, read here.
In today's blog, we sit down with our former makeup course student's, Vanshika Dogra. Whilst at The London School of Beauty & Makeup, she studied our Advanced Diploma Makeup Course. Vanshika talks us through her experience at LSBM along with career aspirations.
What course are/were you taking at The London School of Beauty & Make-Up?
The 8 Week Advanced Diploma in Makeup Artistry.
Why did you decide to take the course?
I wanted to get certified as a makeup artist and learn as a professional.
What were you doing before the course?
I had graduated with a bachelors degree in Journalism and Mass Communication. I came from a background of art but, chose to do journalism because I had still not discovered makeup artistry as a career choice .
What are you doing now as a career?
Right now I am a freelance makeup artist as well as a makeup blogger.
What are your aspirations and ambitions for your future career?
Ten years from now I would really like to be a established beauty influencer as well as have my own makeup brand.
Did you find the course useful?
Yes my experience at LSBM and this course specially was great. This course was the perfect balance of learning basics as well as learning the more creative and SFX side too. The course was helpful in understanding how it is to work in the industry from the insights of our instructors who are well know members of the industry.

What were the course instructors like?
The instructors were very helpful and understanding. The working experience of the instructors helped in understanding things better. It was always fun to explore our creativity with help of our instructors. They were always welcoming to new ideas
Would you recommend The London School of Beauty & Make-Up to your friends?
Yes yes I would definitely recommend.
Would you recommend the course you did to your friends & Why?
Yes, because my course was perfect for any person who wants to not only understand basics but, also delve into the creative side as well.
What would you change about the course to make it better or what do you think future students would benefit from?
If the course was extend a little more. Maybe it was divided into more days so that the SFX parts weren't rushed.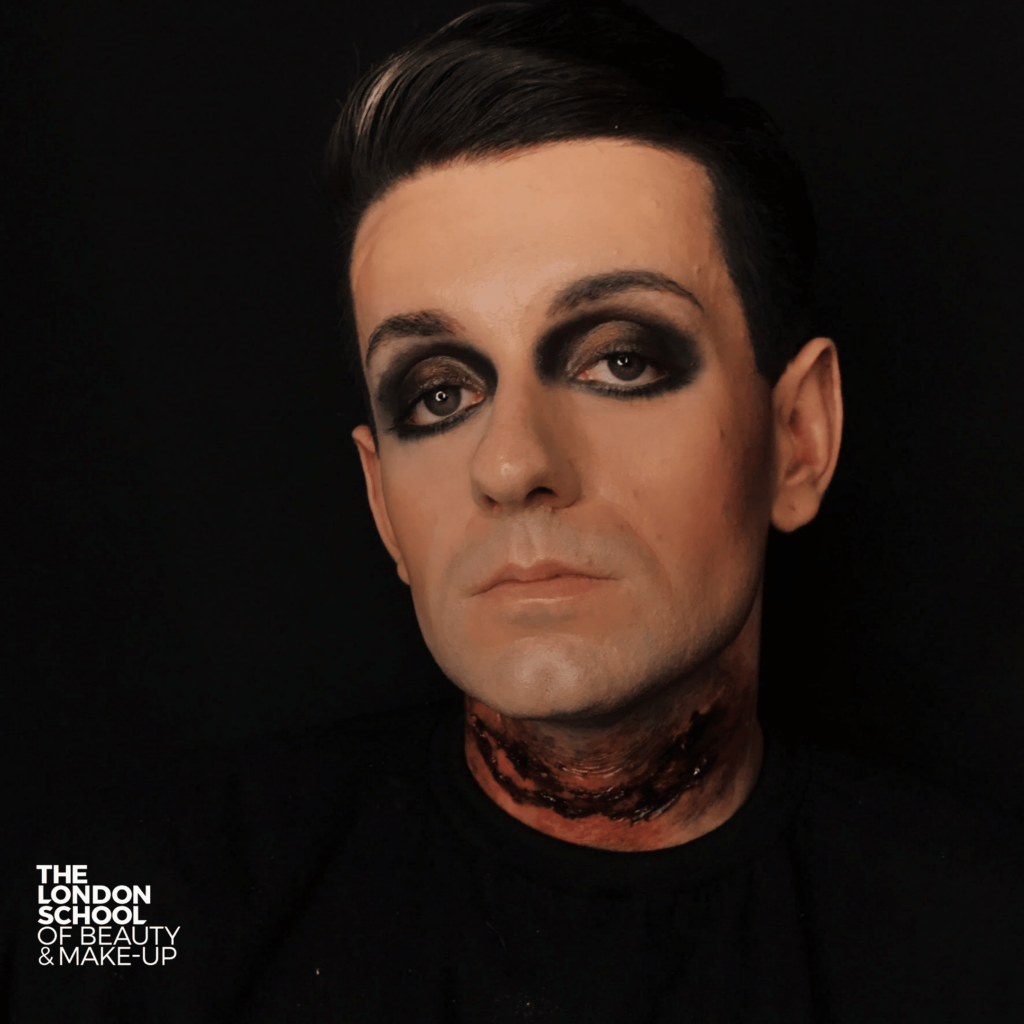 "I loved studying at LSBM that I wouldn't mind staying for longer. "

A striking image created by Vanshika, combining a dark smoky eye with SFX on the model's neck.
As mentioned, Vanshika studied our MASA Advanced Diploma – The Complete Makeup Artistry course, helps students build an advanced portfolio. Based on student feedback, we've altered the course length, now an intensive 10-week complete package.
The London School of Beauty & Make-Up's Foundation Makeup Course
At The London School of Beauty & Make-Up, our MASA Diploma is one of our bestsellers. A fully comprehensive foundation makeup course that will take you from a beginner to fully qualified makeup artist.
The course will cover:
Beauty
Glam
Bridal
Fashion
Editorial
Avant-Garde
Airbrushing
SFX – Our students love this! The perfect time to master your gory skills.
Media makeup
Hairstyling – We've added this so ensure students come out as well-rounded and versatile makeup artists.
Our course is MASA accredited, ensuring that students are to the standards of current industry practices.
The London School of Beauty & Make-Up have been providing high standard makeup education for over 25 years and is one of the leading makeup schools in the UK.
If you are interested in starting your foundation makeup course today, get in touch! Our friendly enrolment staff can be contacted at contact@beauty-school.co.uk or you can give us a call on 020 3966 8690.